Have you decided to install a pool, but don't know exactly how to budget for one? Yes, the upfront cost of installation is the biggest expense, but maintaining a pool is also a commitment.
To make sure you're prepared to take care of your pool for years to come, Handy Pools has put together the ultimate guide to pool maintenance cost.
Don't leave anything up to chance. Keep your pool fresh and clean with these budgeting tips!
Pool Maintenance Costs
There are several components that make up a pool that you will regularly need to check, clean, and sometimes replace. If you are diligent about maintaining your pool, your overall pool maintenance cost can be kept to a minimum over time. Allowing your pool to get too dirty or ignoring issues can lead to costly repairs later.
Below are the main categories of pool maintenance costs.
Pump and Filter Maintenance Cost
Having a pump and filter for your pool is essential for keeping your pool clean every day. The pump moves the water around and ensures it goes through the filter to remove any unwanted materials and pests. If either the pump or filter stops working properly, your pool will become filthy and unsafe to use.
Pool pumps can cost around AU$500-1000, depending on the power needed to maintain your pool's size. There are many different types of pumps out there, including single-speed pumps and energy-efficient pumps.
Pumps run many hours a day, which means they add to your energy bills. According to Hipages.com, it is typical for pool maintenance to take up about 30% of your energy bill, so make sure to budget for this.
Energy-efficient pumps can help drastically reduce these costs. They can reduce energy consumption by 70%, saving you up to AU$600 a year. An added benefit is they'll reduce carbon emissions.
A pool filter can cost a bit less than a pump. Depending on the type of filter and how thorough you want your filter to be, you can spend around AU$300-600.
To lessen the frequency of repairs and replacements of pumps and filters, you can take preventative measures to ensure your pool water is less dirty when it goes through the system.
Robotic Cleaners and Cleaning Equipment Costs
There are a few automatic pool cleaners to consider, including robotic pool cleaners, pressure side pool cleaners, and suction side pool cleaners. Each cleaner has its own speciality for cleaning your pool and works best for certain sizes and shapes.
Robotic pool cleaners have become very popular in the last few years as their technology has advanced. They can learn the size and shape of your pool and automatically clean it, or you can use a remote to guide them. A robotic cleaner will clean your pool's sides and waterline.
Pressure side pool cleaners get their water flow from the water exiting the pump. They drive the water through a separate pipeline that uses it as water for a pressure washer. The pressure side pool cleaner uses this water pressure to propel debris into the bag at the back of the unit.
Suction side pool cleaners are attached to the skimmer by a lead hose and are driven by the pump. They ride around the outside of your pool to pick up debris.
Pool cleaners can cost several hundreds of dollars or range into the thousands. However, they will pick up debris before it reaches the pump and filter, allowing you to keep your pool system in pristine shape. They'll also do a majority of the work for you so you aren't constantly manually skimming and scrubbing down your liner.
Pool Sanitizing System Costs
You can choose to install sanitizing systems that take care of your pool's chemical levels and cleanliness for you. There are saltwater chlorinators, mineral generators, chemical dosers, and even freshwater sanitation systems that allow you to forget chemicals.
Saltwater systems and chlorinators can cost from AU$600-1000 or more.
To keep testing your pool's chemical and pH levels, you can buy testing kits for a few dollars or comprehensive packages for a few hundred dollars. You might use more of these at first when you're getting used to dosing your pool correctly, or when you're trying to correct an error. Once you become an expert, you'll only need to use these minimally.
The Cost of Keeping Your Pool Comfortable
Even in the warmer places of the world, pool heaters are a nice touch. They keep your pool water at a comfortable temperature at all times of the day and year.
You'll have to pay more for a heater if you have a larger pool, but heaters start around AU$2,500. Once you install the system, you'll have to pay for the energy bills. Gas-powered systems are the most expensive, while a solar heating system can cost you only AU$100-200 a year if you're on a budget.
Once you have a pool heater, repairs can cost on average AU$450.
If you love swimming at night, you're in luck. You can install lights as simple or as complicated as you'd like. Each light can cost a few hundred dollars and comes in many colours.
If you just need to replace the bulb, you can expect to spend around AU$20-100.
Pool Repair Costs
If the pool itself needs repairs, budget for a few hundred dollars. If you have a leak in the liner, professionals will need to come and drain the pool so they can repair the leak and then refill it. Pool plumbing repairs can also cost from AU$500-1300 depending on the severity of the issue.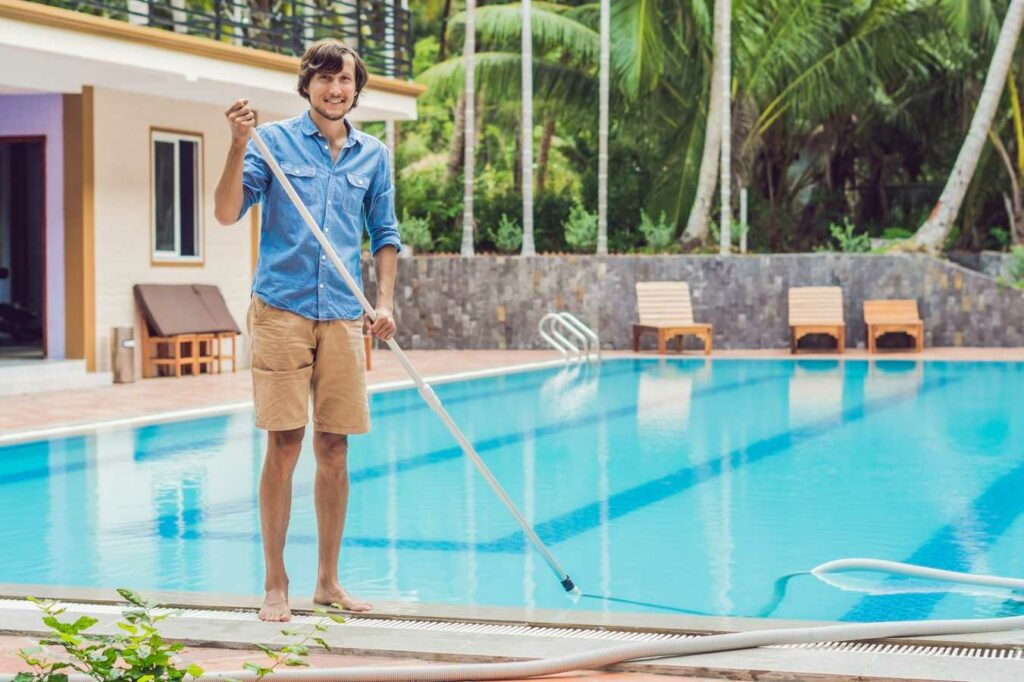 How Much is a Pool Service?
Learning how to maintain a pool can be a lot for new pool owners. Hiring a professional pool service might be the best choice if you are overwhelmed or too busy to maintain your pool.
When it comes down to it, the annual pool maintenance cost is on average AU$3,725. This number doesn't include installation, just the average cost of running pool equipment, cleaning, buying chemicals, and typical repairs.
If you're already paying thousands of dollars to maintain the pool on your own, it's worth considering hiring someone to do it for you.
A regular pool care service can take care of the cleaning, chemical levels, filter replacements, checking equipment, and more. Allowing experts to do this can catch problems early, and it will cost you on average AU$100 a visit.
Keep Your Pool Pristine
Pool maintenance cost can be intimidating, but you can save money and time by hiring a professional pool service instead. Handy pools can not only install your pool and equipment but make repairs and provide regular cleaning and repairs so your pool is always ready for you.
Get in touch with us today and we can help you keep your pool clean and healthy all year round.