Though the summer months are a ways away, it's important to keep your pool in top shape. There is a lot you can do during the cooler months to ensure your pool stays clean and healthy all year round.
The maintenance required for your pool will vary depending on the season. For example, your pool will need more frequent maintenance in the summer than it would in the winter, but do you need a pool service in the winter?
There is more maintenance in summer because it's used more often during the warmer months. However, there is still maintenance to do all year long to keep your pool in good condition.
Do you need pool service in the winter? Let's look at everything you need to know about your winter pool service.
Do You Need Pool Service in the Winter?
Summers in Sydney are warm and sunny; while winters are brief and cold, winter is a rainy season. Especially in the first part of winter. But don't be duped by Sydney's winter climate. It does not mean that your pool does not need maintenance throughout the winter months.
Pool care should be performed all year round, not just during the hot summer months. Forgetting about your pool may lead to little issues becoming bigger ones in time. If you were to maintain it during winter, you would detect these issues earlier.
Do a Thorough Clean of Your Pool Before Winter
The most important thing you can do before allowing your pool to fall dormant is to give it a comprehensive cleaning. This may be done by properly brushing the tiles to eliminate all of the dirt and dust.
Also, thoroughly clean all of the pool equipment. Include the skimmers, filters, and other accessories. Cleaning is essential since it will prevent algae from developing and make upkeep during the winter months much simpler.
Remove Debris and Leaves
Leaves will begin to collect on the pool surface throughout autumn and winter. Even though leaves may not seem to be a major issue, they may do significant harm to your pool!
If you want to cover your pool for the winter, be sure that you do not leave any leaves in the pool under the pool cover. Bacteria from rotting leaves will spread and lurk in corners and recesses as the leaves die and algae builds up. So always ensure that your pool has been cleaned before covering it. While it is essential to conduct routine pool upkeep during the winter, it is also necessary to remove your pool cover to clean it.
Pool Water Loss During Winter
Not many people are aware that swimming pools suffer significant water loss throughout the autumn and winter months. In fact, one of the most common winter pool care concerns for homeowners is the level of the water in the pool.
Water loss may result in severe damage to your pool equipment as well as poor water circulation. That can lead to further damages and compromise the condition of your pool. Let's explain why.
Water Evaporation
Water evaporation takes place all year round, no matter what season it is. During colder seasons, such as autumn and winter, the effects of the elements may be increased even more.
The heater for your pool is a major source of water loss throughout the autumn and winter months. Pool heaters are used to warm up our pools so they can be enjoyed no matter the season, but the heat also enables water to evaporate like steam from the pool surface.
The heat generated by the pumps operating may seem to have a little effect at first sight. But, it builds up over the course of 8 to10 hours of operation. During the process of pumping water, the rotating impeller generates heat, which increases the temperature of the water, increasing evaporation.
Water Features and Spillage
Whenever there are waterfalls or fountains, the arc of the outflow blasts waters out. Depending on where it is situated, it can cause a puddle to form on the side of the pool. In addition, part of the water evaporates and becomes mist, which blows away.
Debris on Pool Covers
Examples of material that may collect on top of your pool cover include dust, leaves, water, and other types of debris. Over time, the weight of the pool cover grows, forcing it into the surface of the pool and sometimes underwater. That can result in water rising over the edges of your pool. This is referred to as displacement. To fix displacement, wait for a warm day and take off the pool cover. Brush it clean of debris and dust.
The good news is that all of these issues may be avoided by doing appropriate winter pool care. Ensure that you check your pool often for potential leaks and that you continue to do routine pool maintenance as usual.
If you are unsure about any of these, employ a pool service company. It doesn't matter what the reason is; they will assist you in maintaining the integrity of your pool and preventing it from completely drying out in winter.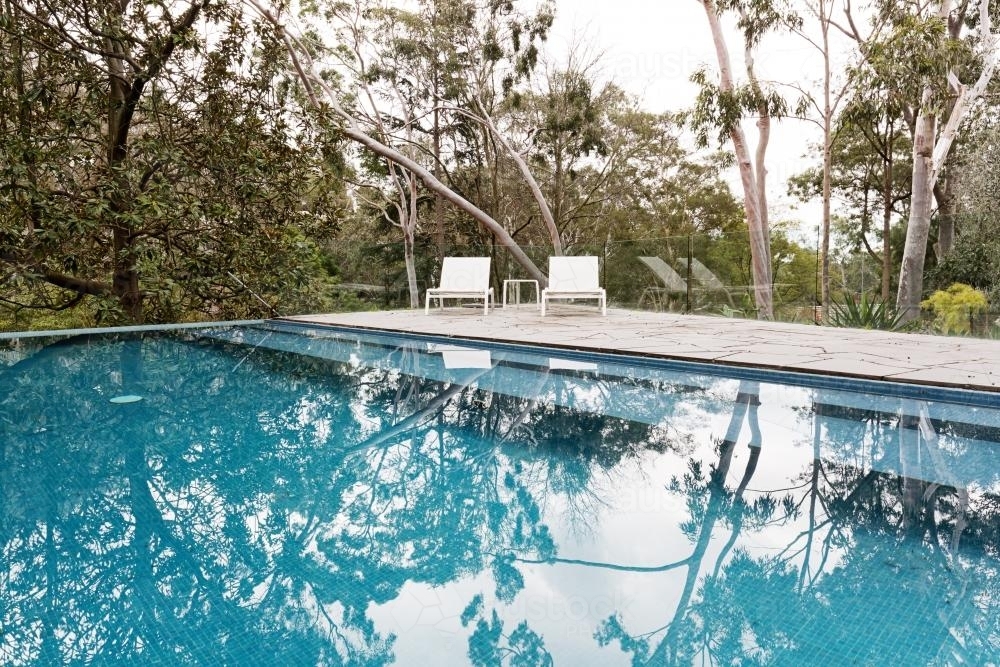 Keep Pool Chemicals Balanced
It is a good idea to check your pool ph and adjust the chemicals at the beginning of the winter season. First, check that alkalinity and pH levels are within acceptable ranges. If they aren't, add the necessary chemicals to restore the water's pH balance to its original condition.
You'll also want to do a chlorine shock and apply the appropriate dosage of algaecide to keep it looking its best. The filter and pump should run for at least 8 hours to ensure that the chemicals are properly mixed throughout the pool.
Pool Filtration in Winter
Another thing that you'll need to remember is to keep your pool filter running throughout the winter. Although it may not seem essential, using the filter for 3 to 4 hours every day will help keep the water clean.
Testing the Pool Water
You will still need to periodically test your pool water to ensure the chemicals are present in the correct amounts. All you need is a basic water testing kit from your local pool shop. The testing kit is sufficient, and it will let you know what chemicals to add if any.
Dive In and Keep it Clean!
Winter pool care is important if you want to maintain your pool in peak condition during the winter months. That way, you can splash in without any hassles when summer comes!
Having a healthy and safe pool for your family doesn't have to be a problem.
Do You Need Pool Service in the Winter? It doesn't matter where you are in Sydney; contact us as we have many options to help you maintain your pool or get your pool ready for summer.