Keep reading to discover everything Handy Pools offers, from installation to routine care to maintenance in emergencies.
As one of the best Pool Cleaning Companies Sydney, Handy Pools offers everything you need to keep your swimming pool clean and healthy.
A standard fibreglass swimming pool costs between $25,000 and $65,000 to install. If you've gone to the trouble and expense of putting one in, well done! A pool can increase your home's property value, not to mention being heaps of fun for your family.
But after making such a significant investment, you'll want to get the most out of it. That's why proper pool care and maintenance is vital. If you're looking for the best pool cleaning companies Sydney has to offer, look no further.
Sydney Pool Equipment Service & Installation
Pool Pump and Filter Repair
Daily pool cleaning only happens if your pump and filter are in top condition. The pump pushes your pool water through the filter. The filter collects debris.
If one or both break or become clogged, you can end up with a big problem. Excess algae and bacteria can build up, making the water unsafe for swimming. If the problem persists, you can end up with a green pool.
If you hear strange sounds coming from your pump or notice your water turning green, don't wait! Give us a call.
Chlorinator and Pool Cleaner Repair
You may discover your robotic cleaner has stopped working. Instead of scrubbing the lining of your pool, it's been stuck sitting at the bottom for days.
Maybe one of its tubes has a crack in it, or its vacuum is malfunctioning. Or perhaps you have a chlorinator, but your pool isn't staying blue.
If that's the case, you may need our services. We'll repair your cleaners and chlorinators in a few simple steps. First, we'll diagnose the issue. This can include a phone call with you or an additional visit to inspect the equipment.
Once we know what's caused the problem, we'll offer a few options for you around repair or replacement. We'll work hard to provide the right parts and get your cleaners up and running again.
Pool Equipment Installation
We don't only maintain and repair your equipment; we install it, too! If you're considering installing a pool, you'll want to keep the following tools in mind.
First, you want the right pump and filter. This all depends on what kind of pool you have and its size. We can guide you to the best filter for your needs.
Next, you'll want to have a sound sanitation system and cleaner. Sanitisers are chlorinators that keep your pool at the correct levels. We offer a range of products from saltwater to self-testing chlorinators.
For cleaners, we have a mix of robotic and side options. These keep your pool in great shape in between your regular servicing visits.
Will you be installing lights? How about getting a cover for those cooler winter months? These are other products we can help you select to bring your pool to completion.
Solar and Electrical Heater Installation
Part of our pool servicing options includes installing a heater. We offer both solar and electrical heating installation, depending on your preference. We also provide gas heating for those who have a spa or prefer remote control of their pool's heat.
First, we'll speak with you to see which option would work best for your family. Then, we'll take a look at your property to determine how the system and its installation would work. Finally, we'll give you a run-down of the expenses and show you some cost-saving options.
Once we agree, we'll get to work!
Standard Pool Cleaning and Maintenance in Sydney
We offer the best pool cleaning in Sydney because we let you streamline your service. We want to provide a cleaning that works for your time and budget.
Typically, we'll start by taking a sample of your water to test the levels of pH, chlorine and other chemicals. If we see your pool is unbalanced, we'll adjust its chemicals accordingly.
We'll also brush the lining of your pool and scoop out any lingering leaves or debris. We'll check your skimmers, filter and pump, too.
If we find an issue, we'll notify you immediately. Otherwise, we send you a photo of your pristine pool once we're finished.
You may want to clean yourself and opt only for chemical testing every few weeks or vice versa. That's fine by us! We're here to serve you in whatever way works best.
If you're not sure what you need to keep your pool in shape, try contacting us about a pool audit.
Green Pool Care
Nobody wants to dive into a green pool! If your pool pH balance is off or your pool is low on chlorine, the water may turn green. This is usually because algae have had time to grow and multiply.
The best approach to green pool care is prevention. That means regular cleanings and water testing. At the first sign of a green tint, you should give us a call.
The easiest fix is to shock your pool and adjust its chemicals. But if the problem is left too long, you may need to take more drastic measures like draining your pool.
To avoid the added costs of draining or shocking, get a weekly pool service on your schedule. We'll alert you to any signs of trouble long before your pool turns green.
Chemical Tests
Testing pool pH and chlorine should be standard practice in any cleaning service. That's why we perform these at every visit.
It's advised that you test your pool's chemical balance at least once a week. This prevents issues from creeping up without you noticing. We're happy to handle testing for you or give you the tools you need to do it yourself.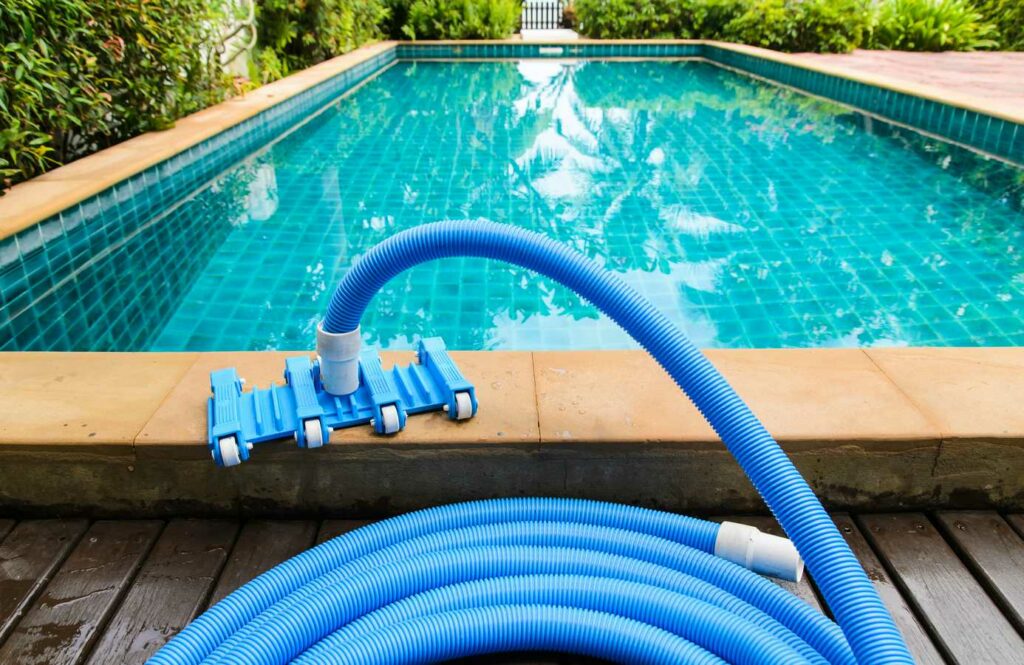 Pool Cleaning Companies Sydney
Handy Pools is one of the best pool cleaning companies Sydney has to offer. We make sure you get the best value for your investment from start to finish. We provide installation, maintenance, and repair pool services so you can know your pool is in good hands.
So don't fret if you notice your cleaner slowing down or your water looking murky. Just give us a call, and we'll walk you through your options.
Browse our website to learn more about our services or get in touch for a consultation.